80% Arms brand 80% AR 6061 lower receiver review
80% Arms 80% AR-15 lower receiver
Price - $80-120 (depending on color, quantity discounts available)
Material - 6061 billet aluminum
Finish - raw, anodized or Cerakoted
Color - raw, anodized black, Cerakoted pink, Cerakoted FDE
Rear pocket - not finished (the new version has the rear pocket complete)
Trigger guard - integrated
Engravings - Safe/Semi
Notable features - Flared magwell, safety selector stops, cut on the left side of the bolt catch pivot pin which allows easier removal of the roll pin, matched colors available with the 80% Arms billet upper receivers
Works with the 80% Arms Universal Easy Jig - yes
Works with the Modulus Arms Jig - yes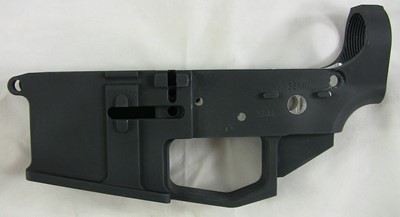 The first 80% lower I completed was this 6061 billet receiver from 80% Arms. It just made sense due to the fact that those are the lowers that were made to fit the Easy Jig. So this was the lower I learned the most doing because it was the first one. I took my time and only made a few errors which I learned from.
Nice design. It's stylish without being ridiculous. It has a roomy integrated trigger guard and tapered/flared magwell. The finish is strong and is what I would call light black, almost a very dark gray. I prefer a deeper black but that is a matter of opinion. These lowers are also available in Cerakoted flat dark earth, Cerakoted pink, raw machined or bead blasted if you prefer to add your own finish to them. I prefer a pre-finished lower but if you plan to coat to match other parts a raw finished receiver makes sense. The rear pocket area is not pre-machined in the lower I completed but is in the new version.
Fitment to the universal Easy Jig:
Good
Fitment to the Modulus Arms Jig:
Good
Ease of machining:
Being made of 6061 this lower was pretty easy to complete. I have done lowers in polymer, A380 cast, 6061 billet and 7075 billet and 7075 forged. 6061 is a good bit more work than polymer and a little easier than 7075. I used cutting fluid when drilling out the 3/8" holes in the fire control group pocket and rear pocket but did not use any when milling them out with the router and 1/4" end mill.
Final thoughts:
I was very pleased with the way this lower turned out despite my own mistakes in the process. The finish is quite tough and I like the overall design. The 6061 material was no problem for my 8" Harbor Freight portable/table top drill press and my 1 3/4" Porter Cable 690 router.
This was the first 6061 lower I have installed a lower parts kit in and I bunged up the bolt catch pin area during installation. I think this is due to the "not right for the job" tools I use to install that pin with the design of this lower in that area. So use extra caution when installing that pin in the lower. The only issue I had during installation was the pistol grip screw hole was not threaded long enough for any of the standard length grip screws I had. Even the shorter ones that came with the Magpul MOE grip I was using. I fixed that by getting a shorter length socket cap screw from the hardware store. Still, I would like to see these lowers with full length threaded in the pistol grip screw hole. This may have been anomoly as the 7075 billet receiver I got from 80% Arms did not have the short thread issue.
At $90 this lower is in the low-midrange price range for an anodized billet 80% receiver. If you have an original, non-universal Easy Jig, and don't want to modify it, than this is the lower you want to stick with. It should also work in any "universal" jig and certainly the newer Easy Jig and Easy Jig Gen 2. I would have no reservations in recommending this 80% receiver to someone looking to make their own AR receiver.
80% lower receiver comparison chart