80% Arms brand billet AR-15 upper receiver review
80% Arms billet upper receiver
Price - $110-150 (depending on color)
Material - 6061 billet aluminum
Finish - raw, bead blasted, anodized or Cerakoted
Color - raw, anodized black, Cerakoted pink, Cerakoted FDE
Forward assist - no
Shell deflector - yes
Notable features - Custom billet design, Cerakote options to match their billet lowers
80% Arms, the makers of the Easy Jig, have begun offering billet machined uppers. These uppers are offered in raw aluminum, anodized black, Cerakoted flat dark earth or Cerakoted pink (matched to Magpul pink). I received an early production sample which I requested in pink. The initial photos are posted below but I will show them in comparison to Magpul pink furniture after I have assembled this upper. I'm quite pleased with the design and the finish of this upper. I could only find a couple of chatter marks on an extreme angle change in the receiver. The Cerakoting is very well done and is evenly covered including the areas that are difficult to coat and are out of sight once the receiver is assembled.
The uppers do have a shell deflector but do not have a forward assist. If customer demand is high enough another version with a forward assist will be offered. I am also pressing 80% Arms to offer matching Cerakote ejection port covers. These would be more important for those customers that order pink or FDE uppers and lowers as getting a matching cover is pretty much a necessity. In the past I had strongly encouraged 80% Arms to offer uppers in addition to their lowers and here we are finally. Now if we can just get those matching covers we'd be golden.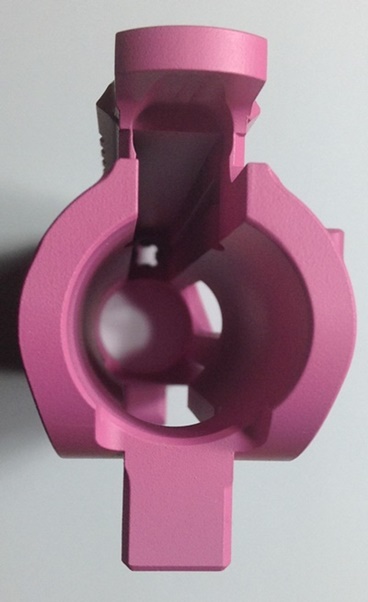 Here is a picture of the upper receiver next to a Magpul pink grip and buttstock. (click image to enlarge)
Here are images of the upper assembled with various other pink AR products (click to enlarge). The upper is of course from 80% Arms, the lower receiver is from Tennessee Arms, the magazine is from D&H and the grip and hand stop are from Magpul. You can see that none of the shades of pink perfectly match the Magpul furniture. The upper is probably the closest match, the TN Arms is a bit too dark and the D&H is a bit too bright. This is a pretty common situation when mixing different companies' version of a color such as pink or FDE.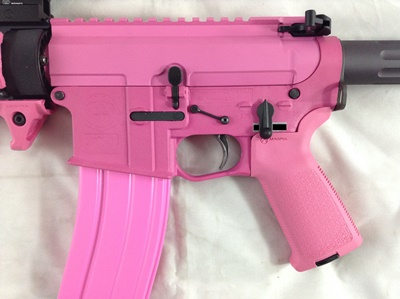 Being machined billet and a non-standard profile, one thing I ran into when assembling this AR was the extra material of the upper prevented me from installing the four retaining screws that tighten the outer rail assembly of this UTG Pro pistol length rail to the free float barrel nut. The assembly also has two indexing pins so I don't anticipate any issues but only one of the four screws was able to be installed. As you might guess this AR is not a critical defense firearm but I wanted to make note of this in the unlikely scenario that your free float rail also has rear mounted screws as this one does.