EP Armory 80% aluminum AR-15 lower receiver review
EP Armory 80% AR-15 lower receiver
Price - $125
Material - 7075 forged aluminum
Finish - anodized
Color - black
Rear pocket - completed
Trigger guard - none
Engravings - none
Notable features - safety selector stops
Works with the 80% Arms Universal Easy Jig - yes
Works with the Modulus Arms Jig - yes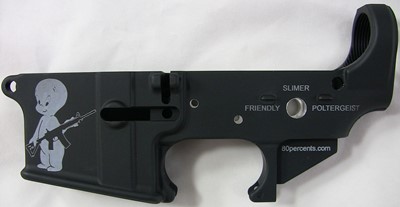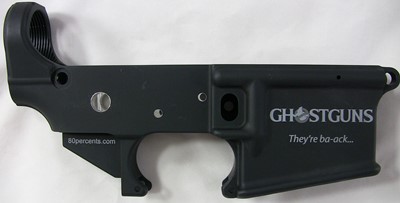 As you can see I had this laser engraved with a "ghost gun" theme which I designed. I have more information about this "ghost gun" engraving on the forum. This is a standard AR type receiver made of 7075 aluminum and is virtually identical to the Anderson and Tactical Machinging forged lowers. This one does not have any forging marks that I can see while the Tactical Machining and Anderson lowers had Cerro Forge markings. I actually purchased this from Palmetto State Defense as an overrun item but it came engraved in the unmachined fire control group area with EP Armory's logo.
First impressions:
A very solid feeling lower and the anodizing looks good. The rear pocket is already milled out which I always appreciate. This is what most people think of when they picture an AR style lower receiver. I'm surprised the lower's fire control group pocket is engraved. This has to add some expense for something that will just get milled through. It looks good and it's a shame it's about to go bye-bye.
Fitment to the universal Easy Jig:
Good
Fitment to the Modulus Arms Jig:
Good
Ease of machining:
As also noted with the other 7075 lowers, this receiver really tested the limits of my 8" Harbor Freight drill press. I might seek out someone with a more powerful drill press and see how big of a difference that makes. But with the drill press set at 620 RPM I was able to do the majority of material removal with the 3/8" bit. Once I switched to the router I saw no real differences between this and the previous aluminum lowers. But when removing massive amounts of material as you do in the first steps with the 3/8" drill bit it will be very clear. If you have a lower powered drill press as I do you will want to take frequent breaks to keep your drill press motor from burning up.
Final thoughts:
I was pleased with the way this lower turned out. The finish is already anodized black so no additional finishing will be necessary to match a standard AR upper. Unfortunately the buffer tube threading on the receiver was off somehow and would not work with the Modulus Arms jig even though it is a standard forged design. The lower is nice but since the price has been raised to $125 it's no longer competitive with the Anderson and Tactical Machining lowers which are considerably less and do work with both router based jigs.
80% lower receiver comparison chart